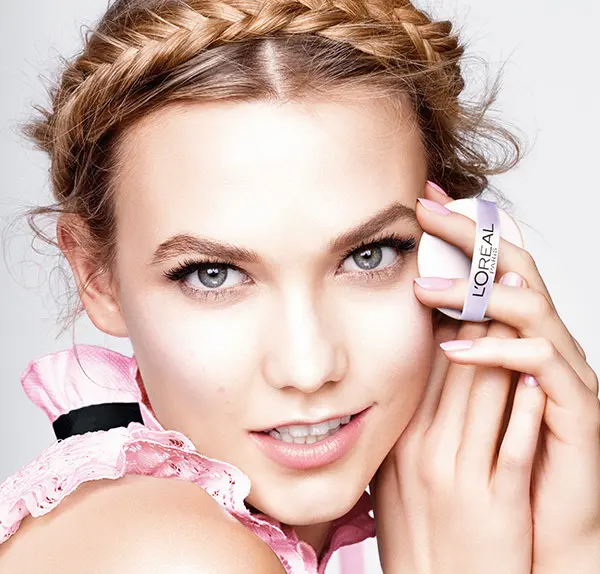 Since my horrible experience with severe hormonal acne breakouts last year I opt for more expensive and very natural looking foundations to apply on my skin everyday. One of my ultimate favourites throughout the past year was the Bourjois Healthy Mix foundation which had to be replaced every 2 months due to the fact that I was literally using it everyday for work and on weekends as well.
So continuing on my search for natural, high street foundations I stumbled upon the much talked about L'Oreal Nude Magique cushion foundation. It is a foundation inspired by the Asian beauty world (which is dominated by all kinds of cushion products), packed in a gorgeous luxury looking compact container.
The L'Oreal Nude Magique Cushion Foundation retails for €14.99 (prices vary based on location), and comes packaged in a cute plastic purple/rose looking container, complete with a mirror and washable applicator. It's described as a dewy/luminous buildable foundation, with light to medium coverage (depending on your application). It can be used on all skin types, and is available in 7 shades, which in my opinion is not a lot at all.
Cushion foundations are simply liquids drenched in a sponge, and that's exactly what you get from this one. It looks like a sponge, feels like a sponge, and even makes that squishy sponge noise when you press your fingers into it. It's definitely the most unique formula I've used so far and is so fascinating to look at.
The formula of the foundation is really liquidy and easy to blend and reminded me so much of my Healthy Mix while I was applying it onto the face. I have no idea how it applies with the included applicator because I much rather prefer to apply all of my foundations with my
Real Techniques Miricle Complexion sponge
, but you can most certainly use whatever you like such as a flat top kabuki, stippling brush, or any dampened beauty sponge of your preference.
The foundation feels like nothing on the skin, and it leaves behind an airbrush finish that hides imperfections, minimizes pores and acts as a second skin on the face. The coverage is easy to build, and I've had no issues with it appearing heavy or cakey anywhere.
To apply, you simply press the included applicator (or any makeup tool of your choice as I mentioned before) into the product, tap it onto your face, then blend.
It wears all day, without turning oily or splotchy, and it can be worn with or without a setting powder as I like to apply it. You can also throw the compact into your purse for convenient touch ups on the go like I like to usually do with all my other foundations while at work when I'm feeling that the foundation is wearing out by the end of my working day.
Overall I was so impressed with this cushion foundation. The only thing that I didn't like was the fact that there are only 7 shades which are very similar to one another, and I couldn't find my proper shade so I went with the second lightest one called Vanilla.
This cushion foundation is so different than anything else I own, and the finish of it is gorgeous. You can customise your coverage, and it works great with my normal/combo skin type.
I highly suggest to anyone looking for a new lightweight drugstore foundation for the summer to get one while it's still on sale at our local Cosmo drugstores for only 6 euros (370 denars).
Hurry up because the sale ends on 30th June!
That's all for today my darlings.
Till next time...